www.eugeneweather.net sensor suite and anomometer        www.deadwoodweather.net sensor suite
The stations are issued ID's by NOAA and MADIS, id AR232 Eugene, and id AT060 for Deadwood. Both stations are running 24/7 and are uploading their data to the web and respective web site every minute as well as every 5 seconds to the Weather Underground network, which can be seen below on the embedded web-cam images for up to the second resolution.
North Eugene, Santa Clara weather station                      Deadwood Creek weather station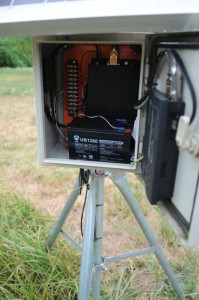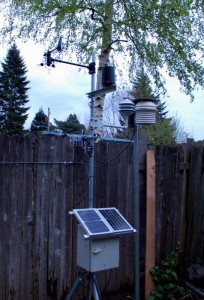 This was the old sensor site (left) also showing my portable RF linked sensor suite. Relocating the sensors was necessary to acquire quality data and follow weather station siting guidelines; the station sensors have been sited to 2 different locations to achieve this. The wind anemometer is mounted above the tree line for reasons obvious. The Temp, Hum, Rain, and Solar sensors are remotely located. I need to thank my neighbors for letting me site them on their property of 3 anchors. The field is all grass and garden, a perfect environment for the sensors to collect accurate data.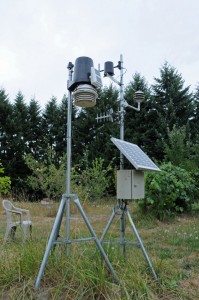 The fan aspirated radiation shield is solar powered to eliminate heat soak in the sun. This location is ideal because it has nothing surrounding such as pavement and structures that can generate or radiate heat, unlike the old location. Also the rain gauge is heated to measure any frozen precipitation in winter months. Virtual Weather Station software is in charge of collecting the data and integrating it seamlessly into the web pages from my battery backed up server.
The Deadwood station is located 30 miles west of Eugene and 4 miles north of Highway 36. It sits in a narrow creek valley which eventually flows into the Siuslaw river. This station a VantagePro II also running VWS on it's server. The sensors are located up 25 feet on the pole donated by the property owner and installed for free by our good friends at Blatchly Lane electric co.
And many thanks go out to Ray and Kathy of Deadwood for the sensor location. Me installing the sensors and weather cam.