KC7RJK/r 145.500- pl100 & 440.500+ pl100 IRLP 3543 AllStar 29650
New DTMF commands listed below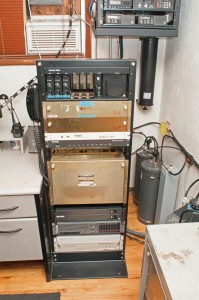 The KC7RJK repeaters are open, open to all licensee amateurs sitting on 145.500- minus offset, and 440.500+ plus offset, both with a PL tone of 100Hz. UHF sometimes functions better in urban areas, especially on an HT. Both repeaters are linked together at all times so running split or full duplex is also an option. Features IRLP node 3543, AllStar 29650, open phone patch, emergency warnings, weather alerts, current conditions and forecast all over the air. The antennas are located on my 100′ Rohn 25G tower northwest of Eugene. Coverage with an HT is good through Eugene and Springfield but can get spotty outside of town. With a mobile and decent antenna, typical coverage is from Cottage Grove to Corvallis. Both systems uses a divorced transmit antenna to achieve more RX sensitivity. Also a remote voted station has been installed at a temporary location (the office) until the permanent site is prepared in the Springfield hills. This also makes it easy to get all the final adjustment made before relocating the equipment 15-20 miles away.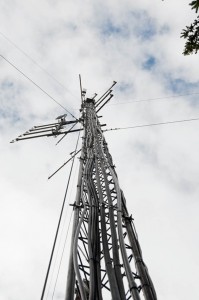 Some of the features
Automated repeater functions, life safety, weather, road and property alerts. These alerts run from custom scripts (programs) written on the IRLP node computer. The life safety, weather and property alerts originate from many places like  the NWS, ODOT, NOAA, etc but many are originated locally on my server so not be reliant on the internet like other systems on this repeater. Weather alerts are given on the hour or by dialing 999. The driving alert system continually checks ODOT tripcheck for road delays and closures and will announce them right after being issued and every 10 minutes until the incident has cleared up, or by dialing 98 to manually check.
Voicemail System
This system also works by using the existing IRLP node to do all the work. Scripts written by a good friend Mark KC7DMF accomplished this project. Works by using your calls suffix (if you're in the system) as your identifying prefix. For instance anyone can leave me kc7rjk a message anytime by entering a simple command RJK# or 755# and that's it! The system converts the audio to MP3 so it can be emailed to the user and played on the repeater. Users can then listen to it via the repeater, computer, phone, or whatever instantly!
Repeater DTMF commands and operating procedures.
Pause, pause first to see if others are using the machine or links. Then ID and make your call or link.
Use DTMF command 77 to see if the repeater is already linked to a node or reflector.
DO identify before sending DTMF command tones.
DO hold your microphone PTT for about 1 second before talking to allow all systems time to rise system wide.
DO NOT rag-chew on your local repeater while connected to the reflector.

DO pause to check or activity for 10 seconds when entering reflectors before talking.
***When unsure or curious of your signal quality into the repeater dial 09, TX into the controller and it will re-transmit what it heard back to you. Very useful, even to test your own equipments performance.***
DTMF Commands
911 (new code) will enable the patch and auto-dial 911 (no call length limit when patch enabled with 911 code)

0* enables the patch and * after it's enabled (US long distance calls OK) the patch will disable 5 minutes after the first call is made unless refreshed by * code at any time during the call # will hang up patch * will unhook patch
0# Disables phone patch returns controller to normal operation.
32 Detailed 7 day forecast
33 Short 5 day forecast
44 Current weather station readings
55 Temperature
66 Rain readings
73 Terminates IRLP links
77 IRLP status (will tell you if there's an active link) also updates IRLP APRS status
IRLP is simple as dialing the 4 digit node number and # or 73 to disconnect, that's it!
88 Time
98 Short description of Eugene area closures and delays
99 Full weather warning or local area alert description (C to cancel stop description)
999 Warning summary of description of above
AllStar Contact me for commands and usage
AA Amateur Radio News Line weekly report, updates Friday morning
C Cancels playing of ARNL or any other speech commands
09 Local echo repeater, replays your transmission giving you your signal quality into repeater
33*zipcode To check weather forecast by zip "ie 33*97404″
32*zipcode To check extended forecast by zip
44*zipcode To check current condition by zip
Courtesy Tones
The courtesy tones help decipher the origin of the audio and status of the repeater. When the IRLP node is connected to any other node or reflector, the c-tone changes from the original tone. This makes it easy to tell if the repeater is connected via IRLP or AllStar. When there is a system warning or failure, a different c-tone is used (let's hope not).
 Repeater Hardware
I use Mastr II VHF/UHF repeaters and related equipment, it's what i've gotten to know and i find them very reliable with very selective front ends. As of 3/15/2010 the two meter input of 144.900 PL100 is finally installed and functioning well. It took some time to acquire the proper used equipment and that's a hobby in itself. The Mastr II series is crystal controlled design from the late 70′s that is still used today. For  reasons like selectivity, interchangeability, great audio, and incredible ruggedness. A new 3 port Arcom RC210 replaced the overloaded NHRC6 two port controller. Here are some links to the equipment I'm currently using.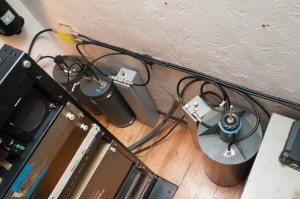 Filtering / Cabling
Look HERE and HERE for more info on how repeaters work. All of the cabling used in duplex repeater systems should be 100% shielded or double silver braid varieties like RG223,214,142 etc. Most of the jumpers are Heliax superflex FSJ1, FSJ2, with a few of the double shielded variety in tight quarters. Andrew Heliax LDF5 7/8″ hardline is used for both UHF and VHF receive systems and LDF4 1/2″  is used for the transmit antennas. Combinations of pass and pass/reject cavities filter for duplex operation.
Two Sinclair pass cans for VHF TX left, APRS pass/reject middle
VHF input cavities left UHF repeater and wacom duplexer                  tower grounding
uhf and vhf RX antennas at 100′  APRS, wifi, streaming RX, etc.  Link yagi, uhf and vhf TX antennas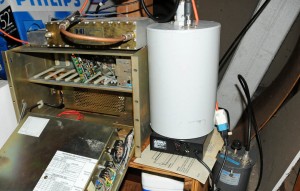 Voter site
This is the equipment used at the remote RX site. The system is based on a GE tone tone voting panel. It's important if possible to use all the same model radios in the system for good audio quality and transparent site switching . The entire kc7rjk system is based on the GE Mastr II series of radios except for the moment where at the voter a temporary Hamtronics uhf RX is seen on top left of the Mastr II repeater. The repeater is used as the vhf RX and 420mhz link transmitter for both vhf and uhf receivers controlled by the NHRC-4 inside the card cage. The site is temporarily set up at my office until the Springfield hills location is prepared. A Comet GP9 is used for both receivers while a BlueWave yagi retransmits both signals back to the voter.
Low voltage ROIP PC's
AllStar node 29650 radio interface installed inside       IRLP node 3543 Raspberry Pi system
The 12v PC's draw very low current from a dedicated a battery backup system that powers the PC's and networking equipment in a mains failure. All Three PC's draw 5 amps at 12v under normal operation giving about 12 hours of battery time. The AllStar machine is based on a mini itx motherboard and a SATA SSD. Being fanless and with zero moving parts I'm hoping for years of maintenance free service, unless murphy stops by. The other is a Raspberry Pi computer or PiIRLP, it's a great hardware choice for IRLP. This system also has zero moving parts and can be put together as seen here less the case for $70! The only thing is i wonder the life of the SD card… It's powered through a 7805 regulator and salvaged micro usb cable drawing only a couple watts. I also used a 150K pad on the audio input, was a good value between the CM108 fob and Arcom controller leaving both adjustments close to union.
Low voltage Windows Server
This is the finished Weather Server that replaced a very power hungry HP DL380G5 sever. It's a dual bios micro itx board powered by a DC to DC 160 watt 12 volt power supply to insure long battery operation, 60 watt 3 Ghz intel duo processor, 32Gb solid state OS drive, AC power supply is installed in case of DC-DC supply failure.
There are many services running on this machine, Virtual Weather Server, UI-View32 with add-ons as an APRS Igate and Digi, Icecast for hosting audio, kc7rjk/R, local scanner audio, and four instances of edcast to stream those and NOAA Eugene, and NOAA Florence to the weather radio network.